How to eat Indian food the traditional way (hint: it's with your hands)
Run if it's boring.
My first piece of advice is to never order Indian food in a restaurant. It's self-explanatory.
The second rule is a little more specific: Be daring and don't be afraid to get your hands dirty.
Literally.
Forks and spoons are both acceptable. However, using your hands is the (traditional) method for eating Indian food.
A few years ago, when filming in Mumbai, Oprah offended some Indians by saying, "I heard some Indian folks eat with their hands still." This got her into some trouble. Yes, Oprah, lots of people still eat with their hands. was the quick reply. It's just the standard procedure.
Silverware was nearly nonexistent the last time I visited New Delhi, in the northern region of India, to meet the family of my partner who is from Bihar. The Hindi question "Tumko kitni roti chahiye?" is asked by hosts in place of setting down cutlery. How many slices of bread would you like?
If you don't have your own desi hottie nearby, it's likely that restaurants are your major supply of Indian food. Indian cuisine is suitable for vegans (the majority of vegetarians there don't consume eggs), vegetarians (around 40% of the population is vegetarian), and gluten avoiders (several nonwheat flours are prominent, such as ground chickpea besan).
You're probably most familiar with restaurant fare from North India. The majority of Indian eateries in the area concentrate on northern food with a touch of southern fare, including spiced rice biryani. A few neighborhood restaurants, such Udipi Cafe on N. Dale Mabry Highway and Dosa Hut in Town 'N Country, specialize on South Indian food, which relies much more heavily on rice.
Silverware is not used for eating Indian food according to tradition.
Instead of forks and knives, use your right hand to tear large pieces of bread (often naan in restaurants), holding the remainder in place with your other fingers while tugging with your thumb and forefinger. Eat the entire morsel in one scoop after wrapping it around the food and sauce in your main dish. Rice can also be included, especially when paired with a lighter meal like daal, but its main purpose is to soak up any lingering gravies. When your rotis are gone but there is still food, a host will ask, "Chawal?"
Fun fact: In many cultures, eating rice is considered to be the final course of a meal in many parts of India. In fact, you would jump right to this phase in a lot of South India and the east, skipping over bread (unless you count the dosa, a rice-based crepe from the south).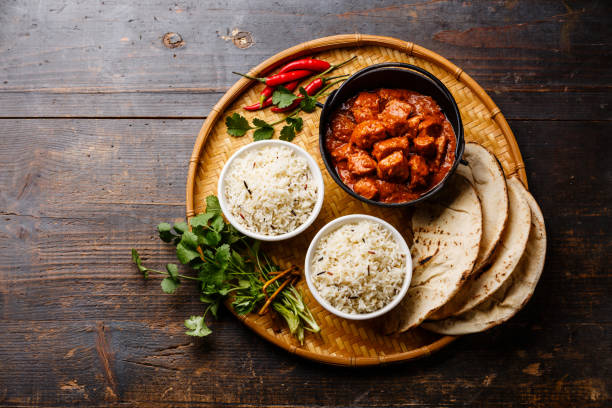 Traditional rice eating involves rolling the grains and gravies — you can't keep your dishes separate at this stage — into a sticky ball on your fingers and squeezing it into your mouth with your thumb. This is done with your right hand as the tool. The method is a little messier and more difficult than the bread one, therefore in more formal settings, such as a restaurant, a spoon will typically do.
You're all signed up!
Indian Food How To Eat
Need more of our weekly, free newsletters delivered to your inbox? Let's get going.
Look into all of your alternatives
What should you order now that you know how to eat the food?
A lunch buffet is the best option for the novice who is intrigued (or simply ravenous), allowing them to sample foods that are easier to understand by sight and smell than by menu descriptions like "with aromatic Indian spices," which, well, explains everything.
However, when you eat à la carte, the meals are supposed to be shared family-style; a small portion of what you ordered, a small portion of what your dining companion(s) ordered, and a small portion of communal rice. This implies it's essential to collaborate on a plan with your fellow diners. My philosophy is that no two sauces should be the same because different people may order meat or vegetarian options.
Since I prepare more Indian food than the average American, I frequently order items from restaurants that I don't prepare myself. (I have long since acknowledged that I am a vindaloo loser.) Do look beyond the standard tandoori chicken or aloo gobi (literally, "potato-cauliflower") for items like sophisticated sauces, goat, and lamb that demonstrate the true richness of Indian cuisine. Even if you don't cook it.
Fearful of a goat or a lamb? Never be. Goat curry is highly flavorful and somewhat reminiscent of a spicy pot roast; ground lamb seekh kebab offers considerably more flavor diversity than chicken, however you may need to pick around some bones.
In addition, I can thank Indian food for making me eat liver and okra (bhindi do pyaza), something the South of this country's deep-frying has never been able to do.
Recall how I mentioned having a little adventure? This leads to some tasty food stories.