Why Does Indian Food Make You So Gassy?
Why Does Indian Food Give Me Gas
As I type this in India, I'm considering what to eat for dinner. Indian cuisine can be so tasty! However, I recall being in the USA and occasionally experiencing gas after eating Indian food. So I questioned whether eating Indian food causes gas, and if so, how.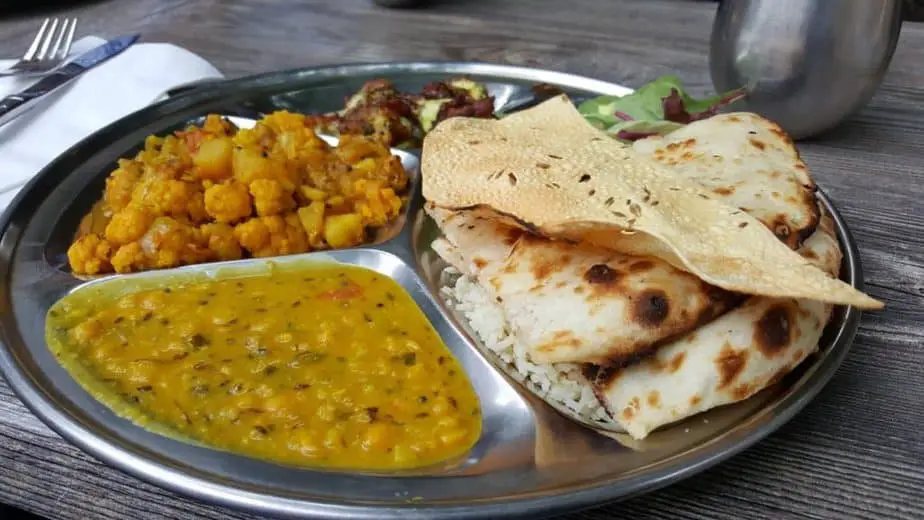 Indian food frequently contains components that create gas. Flatulence results from the need to break down starchy carbohydrates like rice into carbon dioxide. Garlic, mangoes, lentils, naan, and cruciferous vegetables all include FODMAPs, which result in gas. 65% of individuals have a lactose intolerance, and many sauces contain dairy.
But several typical Indian spices can aid with gas reduction. Your digestion will benefit from fennel seeds, asafoetida, cumin, and carom seeds.
There are a lot of things that could make you gassy, I discovered while researching how to consume healthy Indian food. Let's look at what might be causing your gas… and how you can prevent it during your next meal in this post. There are several Indian foods and Ayruvedic medicines that can reduce gas.
1. Eating Starchy Foods Like Rice Must Be Broken Down Into Carbon Dioxide
Why Does Indian Food Give Me Gas
Among the starchy foods are pasta, potatoes, and rice. In a traditional Indian meal, rice is frequently consumed. While delicious, the starch needs to be converted to glucose after consumption. This is subsequently converted into alcohol and carbon dioxide, which causes flatulence.
If the rice is reheated, the situation gets worse.
Consider the rice at a buffet; even one that is beautiful and located in a 5-star hotel may have been sitting for a long before being reheated. More gas is produced as a result of the food's altered molecular structure and difficulty in digestion in our intestines.
2. Lentils, Cruciferous Vegetables, Garlic, Onions, Mangoes and Dates Have FODMAPs
The majority of diets contain fermentable oligo-di-monosaccharides and polyols (FODMAPS), which have been linked to gastrointestinal issues like gas, as well as diarrhea, bloating, constipation, and pain.
Foods rich in FODMAPS include:
Beans (dal) with lentils
Roti, wheat flour, and naan bread
Cruciferous foods, such as cauliflower
mushrooms, peas, beets, and
spices, such as garlic
Onions
fruits such as dates and mangoes
preserving veggies
grain flour
beer, wine, and chai (if drinking more than one)
dairy goods
Since FODMAPs are included in SO MANY meals, it would be difficult to completely avoid them, but if gas is an issue, avoid the foods on this list.
3. Vegetable Oils Are Terrible for You and Your Digestion
In India, homes as well as restaurants frequently use vegetable oils. Many people believe they are in good health. Additionally, they are more affordable than healthier options like coconut or olive oil.
You would need to smoke a pack of cigarettes to consume the same amount of the toxin known as Acrolein found in processed vegetable oils as one serving of potato chips.
Imagine what this toxin might be doing to your digestive system.
India does have certain locally produced oils that can be quite beneficial. All three oils—coconut, mustard, and sesame—can be beneficial. In moderation, ghee can also be beneficial for health.
Due to the recent importation and marketing of processed vegetable oils by numerous foreign businesses in India, it is possible that Indian eateries are using these oils.
Oils to stay away from are:
Canola
Peanut
Soybean
Corn
Safflower
Sunflower
Rapeseed
Cottonseed
Find out what kind of oil is used at the restaurant. Restaurants with a higher price tag or an organic theme are more likely to utilize healthier oils.
Try to use olive, sesame, mustard, or coconut oil from a reputable brand when cooking at home.
4. You Are Lactose Intolerant of Dairy and Don't Realize It
The U.S. National Library of Medicine estimates that 65% of people are lactose intolerant, even though they might not be aware of it. Lactose, the sugar found in dairy products, will cause gas, bloating, and diarrhea if your body is unable to process it.
The majority of Indians view cows as sacred animals, yet the country produces the most milk in the world. Naturally, this implies that a lot of Indian cuisines contain dairy products:
Naan bread is prepared with yogurt.
Tikka Masala contains cream.
Many meals use ghee (clarified butter) as a cooking oil.
Buttermilk and curd (yogurt) are frequently served with thalis.
Coffee and tea are always served with milk.
Paneer (cheese) is used in cuisines like palak paneer and paneer butter masala.
Try some of these foods if you want to stay away from milk:
cooked with jaggery desserts (similar to brown sugar)
Chapati or roti
a hot chickpea dish called chana masala
Okra stir-fry in Bhindi Masala.
If dairy bothers you or you are vegan, I published an article with 30 dairy-free dishes for those in India who follow a vegan diet.
5. Flatbreads Made With Whole Grains
Many of the flatbreads found on the menus of Indian eateries, including roti and chapati, are made using whole wheat flour. These breads contain fiber in addition to FODMAPs.
Food goes into the big intestines, where the microorganisms produce gases like methane, hydrogen, and carbon dioxide since fiber can be challenging for the small intestines to break down.
However, fiber can be quite healthful, so you might want to keep this in your diet.